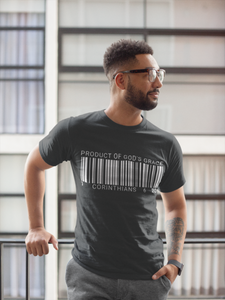 PRODUCT OF GOD'S GRACE - Men
Classic Black or White is the color, God's Grace is the goal. The world we live in is full of trials, strifes, and burdens. Doing it all by yourself is human which is in most times, the essential item for disaster. You need the Grace of God and the only thing better than that is to have others know and the key to wearing our "Product of God's Grace" shirt.
This round neck T-Shirt is more than just a gospel t-shirt, it is a shirt that adds a completion crown to your collection. It is soft and light on your body, it is a stylish fitting and is a symbol of comfort and class. You can wear this shirt with a pants and along with a jacket and whatever light jewelries you choose.
Order this shirt today and may the truth be the winner.